Aaron Rubinstein, designer, inventor, artist, jeweler has been featured in many articles Aaron has won hundreds of national awards for his bold artistic jewelry. Joined by his daughter, Haguit, their designs are contemporary and funky. They work in Sterling Silver and 14K gold using many natural gemstone cabochons and faceted stones. The gallery and museum quality jewelry is handmade in Cincinnati, Ohio in their studio/store. The Rubinsteins offer many one-of-a-kinds, as well as tried and true signature designs.
Thank you for continuing to appreciate our work. Please check our calendar for upcoming shows.
Modern Art Jewelry has been in business since 1968.
_______________________________________________________________________________________________________________________

My Soapbox: Aaron Rubinstein, artist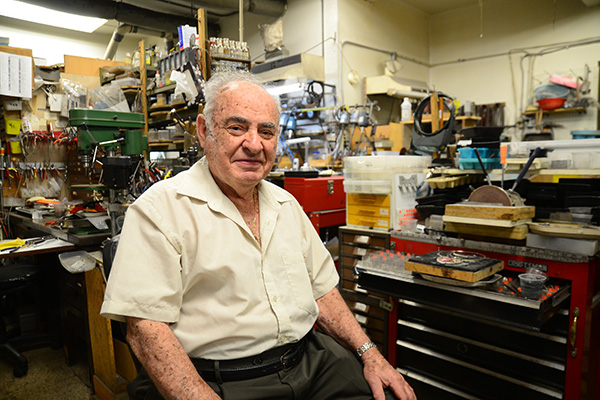 aaron rubinstein
Aaron Rubinstein, 85, has been a fixture at
Summerfair
since its beginning. People come from all over the country—and sometimes the world
—to talk with him and purchase his jewelry.
Rubinstein, a Holocaust survivor, was born in Israel and came to the United States to attend art school. He also taught at a Jewish day school
in Cincinnati before making a hobby his life. He's done work for the Kennedy Art Center (a commemorative pin), the Cincinnati Art Museum
(a pendant) and a magnificent necklace for Ms. Universe. He's won countless awards—many of which adorn the walls of his shop—and he's
been on the cover of
Sunshine Artist
twice.
After his wife's death in 2004, Rubinstein's daughter, Haguit Rubinstein-Towler, 49, joined her father in his trade. Art and Summerfair have
always been parts of her life.
Soapbox
sat down with the Rubinsteins to talk art, jewelry and Summerfair.
You've showcased at Summerfair for the past 45 years—when did you begin making jewelry? AR:
I started making jewelry 59 years ago, in 1949. It was part of my physical therapy after I was injured.
What got you interested in making jewelry?AR:
It started as a hobby, and I fell in love with it.
Have you tried your hand at other forms of art making? AR:
I graduated as a sculptor from the Art Institute in Israel. I then taught art in schools. I did an exchange and went to the Chicago Art
Institute in 1960 and the Minneapolis Institute of Art in 1961. I graduated from the Minneapolis Institute of Art in 1966. It was a small
school but a very good school. I minored in jewelry. I came to Cincinnati in 1968 and started to develop the field of jewelry making.
We build unique tools to make jewelry, which is our trademark.
Why art?AR:
Art is a very important part of people's lives, especially children. Parents bring their kids to Summerfair, and art is being taught in
high schools all over Cincinnati. It's a very important part of life in Cincinnati. If you take away art and music, there is nothing for society—
it's a reflection of a generation. My family has been mainly artists and musicians for the past 100 years. Haguit was born into art. She's an
architect. And her kids—my grandkids—are all pursuing art. My oldest grandson just got his master's in filmmaking and screenwriting;
my granddaughter will be attending Ohio Wesleyan in August to get her master's in creative writing; and my youngest grandson is going
to school for automotive design.
What do you like most about showcasing at Summerfair?AR:
The volunteers are the great people. When I came to Cincinnati, there was a negative approach to contemporary art in the area. Since
Summerfair started, it's made a huge change in the population's approach to art. Houses are now decorated with art.
HRT:
Art used to be associated with hippies, and people weren't educated about art like they are now. Summerfair contributes so much
culture to the area and helps promote new artists with grants and scholarships.
You were given an award last year—can you tell me about it and what it means to you?AR:
I was given the Ashley Award, which was in honor of Ashley, one of Summerfair's organizer. She died very young, and she was a
friend of mine. It really touched me—her husband and two children presented the award to me. She was a sweet lady, energetic.
Why did you decide to join your father in making jewelry?HRT:
I grew up with it—I remember the first Summerfair. I helped off and on at the shop when I was a stay-at-home mom, but I came on
full-time in 2004 after my mother died.
Is there a difference in style between your work and your father's? HRT:
Yes. Because I wear the jewelry, I brought in a different viewpoint. For me to wear it, I have to feel comfortable in it. I appreciate
my father's designs more now too. And I use some of his pieces as a base and add my own style to it.
What do you hope your jewelry brings to the Cincinnati area? AR:
I like that people recognize my work from all over the United States and abroad. I used to sell to people in London, Switzerland, the
U.S. Virgin Islands and Tokyo. People come from all over just to purchase pieces of my work. There was a couple from Seattle who flew
into Louisville and then drove here to buy their wedding rings from me. Two years later, the man called and wanted me to size it for him.
We've made wedding rings for the grandchildren of long-time customers.
HRT:
People come to Summerfair because he's there. He's a fixture there. People are coming to invest in his work for future investments.
When people come to Summerfair wearing his work, other jewelry makers recognize it. It's a huge compliment because jewelry is very competitive.
If you missed Summerfair this year, make sure to catch it next year.
February 1, 2012 - Seen in Cincinnati Magazine

March 24th, 2010 - An interview with Aaron Rubinstein by author Marbeth Schon on Modern Silver
Aaron Rubinstein won first prize for wearable art-designed jewelry.
Loveland a beehive of activity
Loveland was a busy beehive of activity at Nisbet Park Sept. 7. Thousands came out on a bright sunshiny day for the Loveland Arts Council 12th Annual Loveland Art Show in the park.
Early morning clouds and rain gave way to clear skies, comfortable temperatures and a steady stream of patrons kept the artists happy throughout the day. The 80 artists exhibiting estimated more than 3,000 people turned out to browse and buy the wide variety of quality art they displayed.
"I think it's the best turnout we've ever had," said Shawn Custis, president of the Loveland Arts Council. "I've heard nothing but excitement as there were a lot of buyers at this show; nothing but excitement!"
Even with parking at a premium and every available space filled, nobody was complaining. Girl Scouts helped out at Kids Korner, where children had the chance to create their own works of art while mom and dad browsed the show. Local eateries provided food and refreshment at the Starving Artists Café.
The most excitement centered on the art exhibited and the patrons who came to see it.
"Excellent! Good crowd, well educated; their reaction was excellent," said Deer Park resident Aaron Rubinstein, an internationally recognized artist who won first place in the wearable art category. "The Arts Council gave excellent direction; there was constant traffic and nice people."
Rubinstein has been featured in the Enquirer and Cincinnati Magazine as one of Cincinnati's finest artists for his work designing artistic jewelry with gold, silver and gemstones. Judges awarded $1,200 in prizes to the top three artists in five separate categories including: painting, 3D sculpture, photo/prints/collage, wearable art and kids categories.
Pat Olding uses a pallet knife for her oil-based paintings for which she won first place in the 2006 show here. She didn't win this year, but was happy to sell some of her work and meet the people.
"I sold one of my big ones before I even finished setting up," she said. "I got involved in Loveland because of Deirdre Dyson. It's great; a great location."
Artists from all over mixed with a lot of local artists to provide quality art in a nice setting for patrons who came to see their favorites and meet some new artists too.
"Meeting people interested in your art makes it a success even if they don't buy," Olding said. "It's a success if I end up in the shade."
At the end of the day the great crowd and great weather made the show a success for everyone. Kate Ungrund teaches art to first- to eighth-grade school children when she's not creating her own fabric art. She exhibits her art-quilting in a number of shows and sold several pieces.
"This is one of the best," Ungrund said. "Great weather, the number of people; it's a nice place for a show."